Joel and Pat were her guests at the San Francisco Opera House for a small concert. And they met with her afterwords.
During my high school and college days there were two favorite places to frequent. The Blue Note in the Chicago Loop, and The Glass Rail in Bradley, IL. The Glass Rail was a friendly bar with limited food, a small dance floor and a stage that would hold 3 to 4 musicians. As teenagers and later as young adults we respected the opportunity to be there and never witnessed over indulgence. We met girls that were friends and enjoyed listening to the likes of Marian McPartland and her famous husband on the bass. Marion continued her success with interviews on national public radio. As recent as 2007.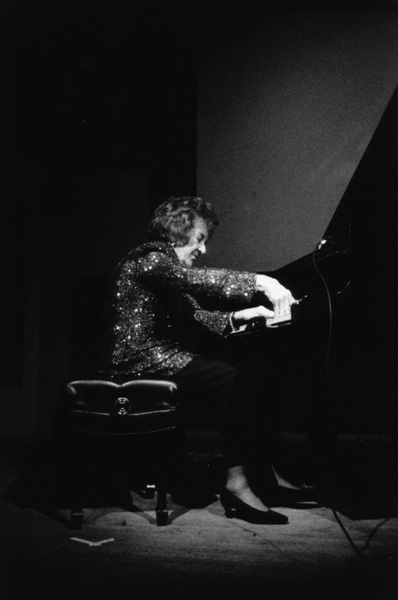 Marion McPartland at the Jazz Bakery
Culver City, California, November 12, 2002
Photograph by John Ballon
Marian McPartland Bio
When considering the long and storied career of Marian McPartland it soon becomes apparent that the remarkable breadth and manner of her accomplishments are, in all likelihood, unmatched in the history of jazz. A pianist and composer gifted with a vast, encyclopedic memory and an intuitive sense of harmony, McPartland has been performing professionally for over 65-years now, delighting audiences with her engaging artistry in clubs and concert halls around the globe and on scores of recordings. To millions of radio listeners, she is also the lively host of "Marian McPartland's Piano Jazz," the popular Peabody Award-winning National Public Radio program which is celebrating over 25 yearS on the airwaves. Additionally, McPartland has mentored countless musicians, spearheaded efforts in jazz education and served as one of the best ambassadors of jazz the world has known.

The fact that an individual born in a small English village near Windsor Castle should become one of the leading proponents of America's Great Musical Idiom is, actually, not as ironic as it may seem to be. After all, by the time Duke Ellington toured Great Britain and several other European nations with his orchestra in 1933 le jazz hot was already exciting the Old World masses, with Margaret Marian Turner, then 15, among the music's fans. A musical prodigy from the time she could sit at the piano, she studied classical music, mastered the violin as well, and simply worshipped jazz, taking Duke, Teddy Wilson and others to heart while looking to Mary Lou Williams, Lil Hardin and Hazel Scott as trailblazers she'd likely follow. In 1938 McPartland was enrolled at the Guildhall School of Music in London when Billy Mayerl, a well-known music hall entertainer, asked her to join The Claviers, his four-piano stage act, and despite a thousand pound counter-offer from her father to stay in school, the young pianist assumed the stage name of "Marian Page" and hit the vaudeville circuit with Mayerl. Subsequent work in a piano duo with Roma Clarke undoubtedly enhanced McPartland's skill in sympathetic accompaniment-and, one could say-paved the way for the duets featured on her "Piano Jazz" radio program.

A pivotal moment in the young pianist's life came in 1944 while entertaining British and American troops in Belgium when she met Jimmy McPartland, a prominent traditional-style cornetist from Chicago (and eleven years her senior). The two musicians fell in love and the following year they were married at a military base in Germany. After the war Jimmy McPartland brought his young wife to the Windy City, where the couple worked until they moved to Manhattan in 1949. Louis Armstrong greeted them on their first day in the city, and in no time they were ensconced in the middle of the bustling jazz universe. Although the McPartlands divorced in 1970, they continued to work together, stayed friends and eventually re-married. To this day Marian McPartland credits her late husband for helping to establish her professional career in the U.S. and for encouraging her broader musicianship through jobs with other bandleaders and instrumentalists.

From 1952 to 1960 Marian McPartland led a trio at the Hickory House, a restaurant-cum-nightclub on Manhattan's legendary 52nd Street, and it was there that the pianist grew in stature among her peers and legions of jazz fans, the casual and cognoscenti alike. On any given night those in attendance to hear McPartland play might include Ellington, Billy Strayhorn, Steve Allen, Oscar Peterson, Artie Shaw and all kinds of celebrities from Broadway to Hollywood, along with musicians like Bucky Pizzarelli and Paul Bley hoping to sit in with the band. As for the trio, a number of different bassists and drummers backed McPartland through her lengthy, crowd-pleasing stint at the popular night spot, but the 1954-1956 edition of the band, with Bill Crow and Joe Morello, is best remembered today. Luckily, a novice recording engineer named Rudy Van Gelder taped some of McPartland's Hickory House performances for Savoy Jazz, and since then the label has released several albums' worth of the material.

Instead of simply falling back on a true-and-tried repertoire and sticking to familiar musical styles while at the Hickory House, McPartland used her employ there as a base for a wide learning experience, typically running over to Birdland and other nearby clubs, between and after her own sets, to soak up more music and to study Duke, Basie, Monk, Bud Powell, Dave Brubeck et al. "My goal was to hear everything, and play a lot of musicians' tunes," said McPartland to one interviewer. Able to summon a prodigious number of songs from memory and adaptive to any subgenre of jazz she encountered, McPartland became heralded as a superb interpreter and forceful improviser. With her trio she began to receive more and more out-of-town offers as her reputation grew, and at the famous "Great Day in Harlem" photo shoot for Esquire in 1958 she was among the dozens of jazz greats assembled, standing, appropriately enough, next to Mary Lou Williams.

Through the 1960s, as jazz surrendered a good deal of its audience to rock and roll, McPartland's enterprising knack for keeping busy came to the fore, and despite an unsatisfying stretch working for Benny Goodman she continued to grow musically. Like many other denizens of the ivories at the time, she was very much taken by the lyrical romanticism of Bill Evans, whose influence became reflected not only in her playing but in her songwriting, as evidenced in her original compositions "With You in Mind," "In the Days of Our Love" and "Ambience," to name just a few. Unsigned to any label, McPartland started her own, Halcyon, self-producing a number of albums of her work and experiencing first-hand the spectral hues of entrepreneurship for more than 15 years. She hosted a radio show on the Pacifica Radio Network station WBAI-FM in New York City for a while, too, and also helped to develop and participated in a jazz education program for Washington, D.C. schoolchildren that ended up becoming a model for similar endeavors around the country. On top of it all, McPartland, who'd supplied Down Beat with some concert reviews back in 1949, took up the pen occasionally to write witty and prescient appreciations and remembrance-filled essays for different magazines, which were collected in a volume titled All in Good Time in 1987. The book was reissued by the University of Illinois Press in February 2003 as Marian McPartland's Jazz World with new postscripts from the author.

The best-known forum for her enthusiastic advocacy of the improviser's art, however, has been, and continues to be, "Marian McPartland's Piano Jazz," a radio program heard weekly on National Public Radio for the past 25 years, making the series NPR's longest-running cultural program. Developed and presented by South Carolina Educational Radio, "Piano Jazz" today reaches listeners in 45 states and 24 foreign countries. "Marian's radio show has done more to promote jazz than people realize," remarked alto saxophone star Phil Woods not too long ago. Featuring intimate piano duets and impromptu conversation, twenty-six new installments of the hour-long show are taped each year with guests who have included nearly all the important jazz artists of the age and other musical luminaries like Ray Charles, Tony Bennett and the members of Steely Dan. Noting that McPartland never gets too technical on "Piano Jazz" for her audience, critic and author Gary Giddins last year wrote: "The courtliness of it all, and the focus on music-making with only scattered touches of biography, elicit an ingenuous desire to reveal and explain." Winner of the prestigious Peabody Award in 1984 and the ASCAP-Deems Taylor Award in 1991, "Piano Jazz" has also received honors from the New York Festival and the Foundation of American Women in Radio and Television, and in 2000 McPartland was named one of the American Jazz Masters by the National Endowment for the Arts.

McPartland has released over 60 albums on Concord Records, and her twenty-five year long tenure at the label represents quite an enviable milestone in itself. Consisting of trio dates, naturally, as well as special projects like her 1997 string-backed album Silent Pool, McPartland's recording legacy at Concord also includes choice "Piano Jazz" broadcasts originally released on Concord's Jazz Alliance subsidiary label and reissues of her Halcyon albums. Particularly esteemed are her "songbook" albums that pay homage to composers like Benny Carter, Ellington and Strayhorn, her old friend Alec Wilder and, of course, Mary Lou Williams. Her 2002 recording, Live at Shanghai Jazz, reunites her in a trio with her Hickory House drummer Joe Morello and bassist Rufus Reid. The following year saw the reissue of a 2CD archival set titled Windows culled from previously released quartet material and 2004 finds another classic in the Piano Jazz CD series with guest and long-time friend, the late, great Lionel Hampton.

2004 was a banner year for Marian McPartland. She was awarded her first Grammy, a Trustees Lifetime Achievement Award celebrating her work as an educator, writer and radio host. She also celebrated the 25th Anniversary of Piano Jazz with a live taping in front of an audience at Kennedy Center, Washington DC on June 4, 2004 with special guest Peter Cincotti, and she was a headliner at the 50th Anniversary of the Newport Jazz Festival in August. Marian was honored in October by the nation's premiere jazz radio station, Newark, NJ's WBGO, at their 25th Anniversary Gala as recipient of their first annual Jazz Achievement Awards, alongside long-time friends and fellow pianists Dave Brubeck and Dr. Billy Taylor. Berklee School of Music gave Marian an Honorary Doctorate in early 2005 starting the year off with a bang.

Concord Records documents Marian's historic 85th birthday party at Birdland with a star-studded, 2CD set entitled: Marian McPartland & Friends: 85 Candles - Live From New York released March 15, 2005. On the same day Jazz Alliance will release a Marian McPartland's Piano Jazz with guests Steely Dan. Other recent volumes in the Piano Jazz cd series released in 2005 feature Marian and her guests Elvis Costello, Bruce Hornsby and Teddy Wilson. This year finds three new Piano Jazz releases: a classic archival program with the late Shirley Horn as well as a session with John Medeski from Medeski, Martin & Wood. Arriving before year's end will be a Piano Jazz cd featuring a beautiful program with Brad Mehldau as Marian's guest.

On March 20, 2006 Marian McPartland turned 88, but fans and interviewers should wisely refrain from using the word "octogenarian" in her presence. She continues to perform for audiences around the world, and, needless to say, talk of retirement confounds the seemingly indefatigable pianist, entertainer and legend who has guests booked for "Piano Jazz" two years from now.
http://www.tedkurland.com/pbuild/linkbuilder.cfm?selection=doc.233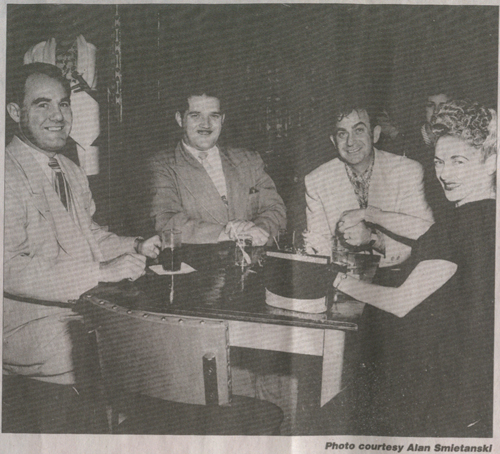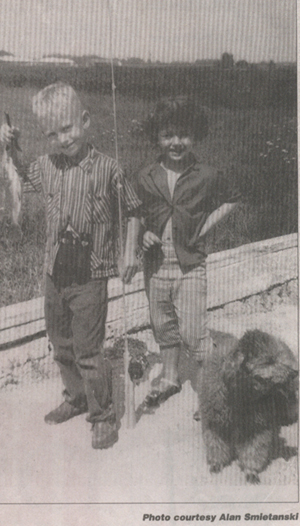 Note from Joel, February 2008.
Regarding the Glass Rail, it is interesting that you talk a lot about Marian McPartland. On our 50th Wedding Anniversary, the night of, Pat and I, were staying in San Francisco. It just so happened that the San Francisco Jazz Festival was occurring over a period of two weeks, (one of the most attended in the world). A long story, how I accomplished this, but, Pat and I, were guest's of Marian's at her one and only Concert at the Festival being performed by her. It was held at the San Francisco Opera House and the place was packed, about 2500. Got to see her after. She remembered the Glass Rail very well. She had just Bass and Drums with her. When she walked on stage (slowly) I saw a 84 year gal, but when she started to play her piano, she was 25 all over again. She told me that she and Jimmy McPartland, had divorced 10 years earlier, but that they have kept very close since. Long story, how I was able to carry this out (better by phone) The Concert was not open to the public. Only registered members of the San Francisco Jazz Society were allowed in.