During my high school and college days there were 2 favorite places to frequent. The Glass Rail in Bradley, IL and The Blue Note in the Chicago Loop. The Blue Note was a small crowded and smoke filled place. It was located in a building at Madison and Clark. They also had a teen age section where you couldn't be served liquor...but a false ID meant you didn't have to be there. Stan Kenton played there many times with his big band. Joel Brault and I hung there as often as we could attend.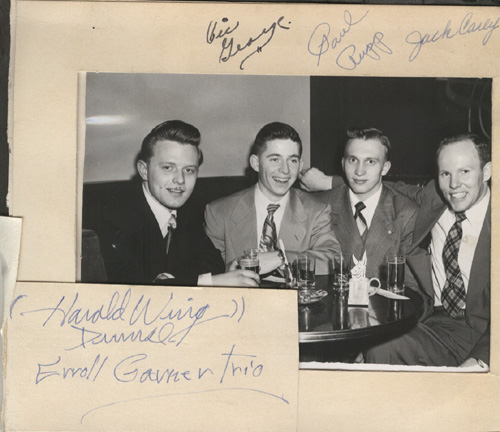 After a Notre Dame vs DePaul Basketball game, February 18, 1950 at the Chicago Stadium sponsored by The Notre Dame Club of Central Illinois. Photo is February 19th at 2:00 am after the game.
The Blue Note Nightclub in Chicago's Loop was the place to go for the best jazz anywhere. It was located in the basement where the beautiful sound and the blue smoke were always present. We frequented it when we were teenagers in high school and continued through Notre Dame. In that era it was possible to get a "drink" and not get drunk with an adjusted ID. Being allowed in there was a matter of our attitude. Notice the dress attire! We were there for the music. A drink was only to fulfill the requirements to spend money along with a cover charge, purchasing photos, cigarettes matches to match the photos. Getting buzzed was not in our program, it was about great jazz. The photo was taken by girls in short skirts with a camera to help her make a living and the owners of The Blue Note. It was a nice touch for a remembrance and here it is posted. We were ND students and visited the Blue Note after a ND basketball game in the Stadium on West Madison Street. John Carey, Vic George, Paul Rupp, and Jerry Hammes in the #1 booth next to the stage. The Errol Garner Trio(#1) was there and drummer Harold Wing came to the booth to visit. The Blue Note Nightclub was also the place we heard Stan Kenton (#2) with his full band squeezed on and over flowing the small stage. Joel Brault(#3) and I did see their gig there.
(#1) Errol Garner born in Pittsburgh in 1921 (Sy Johnson's biographical note in The Erroll Garner Songbook has June 15, 1923 as Garner's birth date), Errol Garner started playing piano at the age of two (three according to Johnson). He never learned to read music, probably because it was never a necessity for him. He learned to play the 'novelty' styles of Zez Confrey and others from listening to 78 records, a style which used steady left hand chord rhythms to support very free right-hand melodic interpretations. This provided a perfect basis for the hard-swinging jazz style that Garner was to pioneer.At the age of seven, Garner began appearing on radio station KDKA in Pittsburgh with a group called the Candy Kids, and by the age of eleven he was playing on the Allegheny riverboats. Garner began to attract attention after he moved to New York in the early forties, and shortly afterwards he made his first recordings. By 1950, Garner had established himself an international reputation, and from that point until his death on January 2, 1977, he made countless tours both at home and abroad, and produced a huge volume of recorded work.
Garner's style evolved out of the 'novelty rags' of the twenties. More contemporary jazz influences include Earl Hines, another Pittsburgh native, and the rhythm compings of Freddie Green (Count Basie's longtime guitarist). But Garner was ultimately a very idiosyncratic player, and he doesn't fit well into any of the standard piano style groupings of 40's and 50's jazz. His characteristic traits are of course his steady, guitaristic, left hand compings, and, most obviously, his octaval treatments of melodies and solo lines. The major seventh arpeggio in octaves which introduces Garner's biggest hit, Misty is an example. Another typical Garnerism is the pizzicato, super-syncopated introduction. These intros are often highly independent of the main part of the piece. They range from fanciful to sassy, but always their choppy staccato serves to highten the driving effect once Garner turns on his relentless left hand rhythm.

(#2) Stan Kenton. There have been few jazz musicians as consistently controversial as Stan Kenton. Dismissed by purists of various genres while loved by many others, Kenton ranks up there with Chet Baker and Sun Ra as jazz's top cult figure. He led a succession of highly original bands that often emphasized emotion, power and advanced harmonies over swing, and this upset listeners who felt that all big bands should aim to sound like Count Basie. Kenton always had a different vision.

Stan Kenton played in the 1930s in the dance bands of Vido Musso and Gus Arnheim but he was born to be a leader. In 1941 he formed his first orchestra, which later was named after his theme song "Artistry in Rhythm." A decent Earl Hines-influenced pianist, Kenton was much more important in the early days as an arranger and inspiration for his loyal sidemen. Although there were no major names in his first band (bassist Howard Rumsey and trumpeter Chico Alvarez come the closest), Kenton spent the summer of 1941 playing regularly before a very appreciative audience at the Rendezvous Ballroom in Balboa Beach, CA. Influenced by Jimmie Lunceford (who, like Kenton, enjoyed high-note trumpeters and thick-toned tenors), the Stan Kenton Orchestra struggled a bit after its initial success. Its Decca recordings were not big sellers and a stint as Bob Hope's backup radio band was an unhappy experience; Les Brown permanently took Kenton's place.

By late 1943 with a Capitol contract, a popular record in "Eager Beaver" and growing recognition, the Stan Kenton Orchestra was gradually catching on. Its soloists during the war years included Art Pepper, briefly Stan Getz, altoist Boots Mussulli and singer Anita O'Day. By 1945 the band had evolved quite a bit. Pete Rugolo became the chief arranger (extending Kenton's ideas), Bob Cooper and Vido Musso offered very different tenor styles and June Christy was Kenton's new singer; her popular hits (including "Tampico" and "Across the Alley from the Alamo") made it possible for Kenton to finance his more ambitious projects. Calling his music "Progressive Jazz," Kenton sought to lead a concert orchestra as opposed to a dance band at a time when most big bands were starting to break up. By 1947 Kai Winding was greatly influencing the sound of Kenton's trombonists, the trumpet section included such screamers as Buddy Childers, Ray Wetzel and Al Porcino, Jack Costanzo's bongos were bringing Latin rhythms into Kenton's sound and a riotous version of "The Peanut Vendor" contrasted with the somber "Elegy for Alto." Kenton had succeeded in forming a radical and very original band that gained its own audience.

In 1949 Stan Kenton took a year off. In 1950 he put together his most advanced band, the 39-piece Innovations in Modern Music Orchestra that included 16 strings, a woodwind section and two French horns. Its music ranged from the unique and very dense modern classical charts of Bob Graettinger to works that somehow swung despite the weight. Such major players as Maynard Ferguson (whose high-note acrobatics set new standards), Shorty Rogers, Milt Bernhart, John Graas, Art Pepper, Bud Shank, Bob Cooper, Laurindo Almeida, Shelly Manne and June Christy were part of this remarkable project but, from a commercial standpoint, it was really impossible. Kenton managed two tours during 1950-51 but soon reverted to his usual 19-piece lineup. Then quite unexpectedly, Stan Kenton went through a swinging period. The charts of such arrangers as Shorty Rogers, Gerry Mulligan, Lennie Niehaus, Marty Paich, Johnny Richards and particularly Bill Holman and Bill Russo began to dominate the repertoire. Such talented players (in addition to the ones already named) as Lee Konitz, Conte Candoli, Sal Salvador, Stan Levey, Frank Rosolino, Richie Kamuca, Zoot Sims, Sam Noto, Bill Perkins, Charlie Mariano, Mel Lewis, Pete Candoli, Lucky Thompson, Carl Fontana, Pepper Adams and Jack Sheldon made strong contributions. The music was never predictable and could get quite bombastic but it managed to swing while still keeping the Kenton sound.

Stan Kenton's last successful experiment was his mellophonium band of 1960-63. Despite the difficulties in keeping the four mellophoniums (which formed their own separate section) in tune, this particular Kenton Orchestra had its exciting moments. However from 1963 on, the flavor of the Kenton big band began to change. Rather than using talented soloists, Kenton emphasized relatively inexpensive youth at the cost of originality. While the arrangements (including those of Hank Levy) continued to be quite challenging, after Gabe Baltazar's "graduation" in 1965, there were few new important Kenton alumni (other than Peter Erskine and Tim Hagans). For many of the young players, touring with Stan Kenton would be the highpoint of their careers rather than just an important early step. Kenton Plays Wagner (1964) was an important project but by then the bandleader's attention was on jazz education. By conducting a countless number of clinics and making his charts available to college and high-school stage bands, Kenton insured that there would be many bands that sounded like his, and the inverse result was that his own young orchestra sounded like a professional college band! Kenton continued leading and touring with his big band up until his death in 1979.

Stan Kenton recorded for Capitol for 25 years (1943-68) and in the 1970s formed his Creative World label to reissue most of his Capitol output and record his current band. In recent times Capitol has begun reissuing Kenton's legacy on CD and there have been two impressive Mosaic box sets. ~ Scott Yanow, All Music Guide

(#3) edited. "Hi Jerry Thanks for the Memories. I remember visiting the Blue Note. Stan would change the position of the walls in there. I don't know if I ever told you, that we knew each other, the last ten years of his life. From 1970 to 1975, I was instrumental, in bringing him to Kankakee, IL for Jazz Clinics for High School Bands in the surrounding area. I hosted a Dinner Party for Him and the Four Freshman before one of the Concerts. During those years, I watched him go down physically. He lived on a bus and traveled almost a solid year during those days. Loved his scotch. Was a very pleasant person to be with, but was very disciplined and serious when it came to expected excellence with his band. He wouldn't stand in front of any crap. His last engagement was in a San Francisco Park on a Sunday Afternoon. The city he started in with the Vido Musso Band in 1938. Stan never got good press when he died. He died at home in Santa Monica about Six Months later. I always thought that they should make a Movie about his life. But, I'm sure the story wouldn't be powerful enough to sell tickets. Maybe, someone like Clint Eastwood could pull it off because he liked his music. I enjoy Eastwoods productions, because we have the same taste for sounds. Thank you, for the mention of me in your archives. I'm immortal now.
Joel"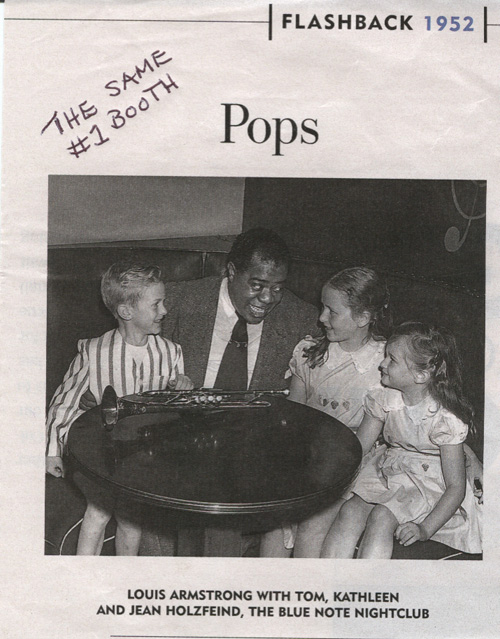 The #1 booth was reserved for celebrities evidenced with Louis
Armstrong with the owners children.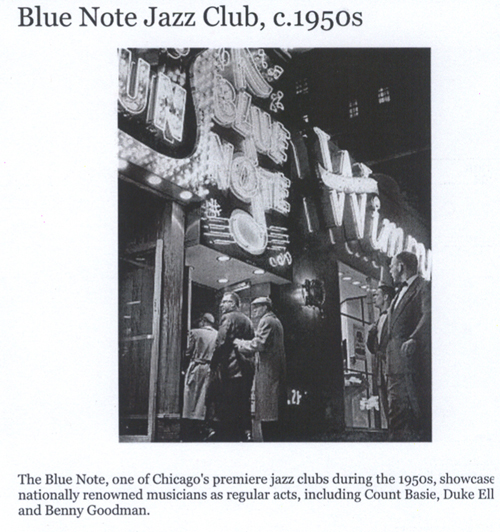 Chicago Tribune FLASHBACK 1952 - August 3, 2003


The Wall Street Journal "Recordings"
Note from Joel, February 2008.
Memories Abound. The Blue Note Section is certainly complete. Stan's Orchestra would barely fit on that stage, which was only about a foot higher than the Dance Floor. His orchestra was so powerful, that his music would resonate up on to the Street. Never could get enough of it. When I saw the link, regarding Grammy's, I thought, to myself, Stan Kenton only won one elieve. For his arrangement and recording of West Side Story.