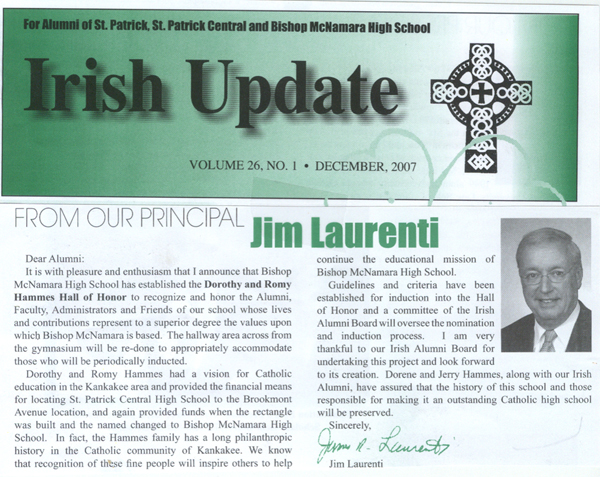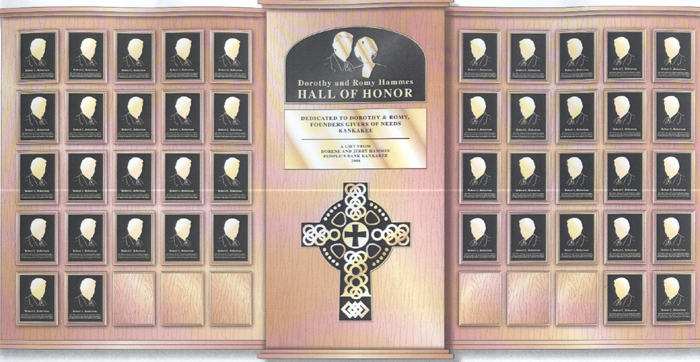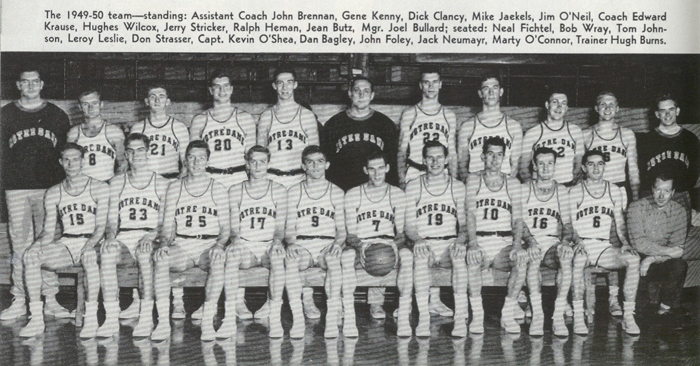 University Of Notre Dame the Notre Dame Scholastic Student Publication. Dick Clancy 3rd from the left #21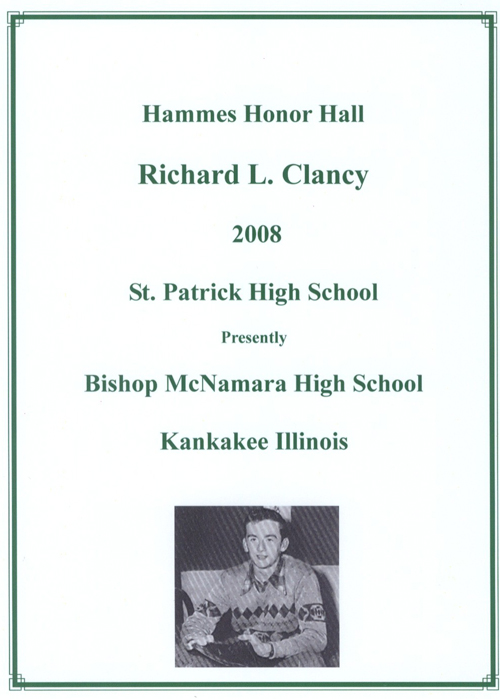 ...Dick Clancy had quarterbacked that St. Pat's team to a 5-0
record.
The upcoming game with arch rival Bradley was important.
...But Dick Clancy had a broken nose and it was doubtful he would play the game.Remember,those were the days before facemasks.His nose would be exposed to all football's elements.
...Clancy's best friend, Bill Salkeld, tells: "He found this thing he could wear. It was an iron mask with padding. When he put it on he looked like some kind of monster, or Medieval knight. It's a wonder he could see through the slits for his eyes."
...Clancy played and St. Pats won 20-14.
...Through the years there are many stories of courage, responsibility and endurance. Irish athlets could have no better model than Dick Clancy. Come to think of it,he is a model for each of us.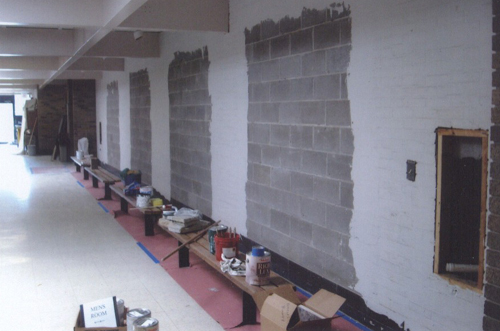 ...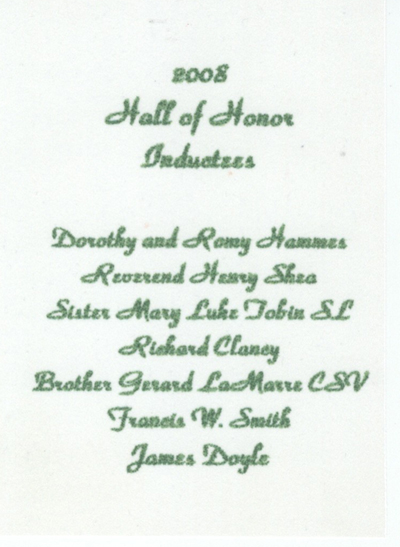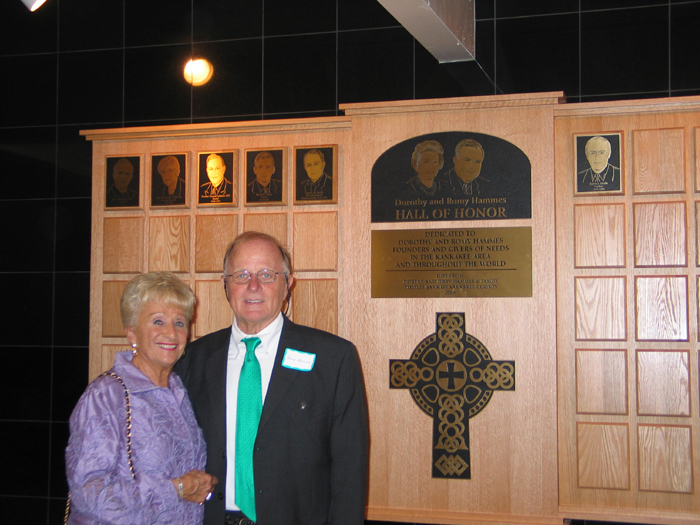 Dorene and Jerry Hammes
Dorene Hammes, Claire and Anna Hammes, Jerry Hammes, Lisa and Jeff Hammes.
Dan Crossen, Dorene Hammes, Claire and Anna Hammes, Lisa and Jeff Hammes and Jim O'Connor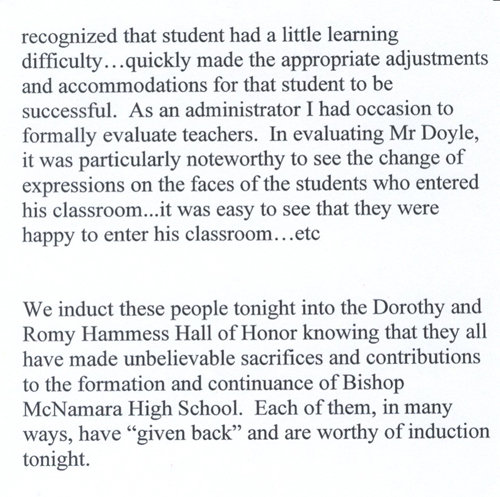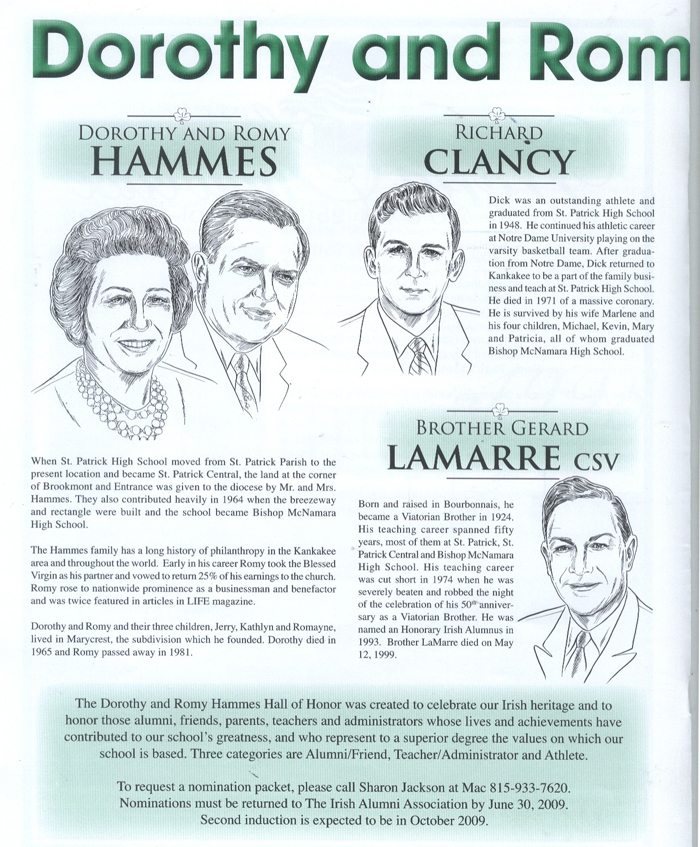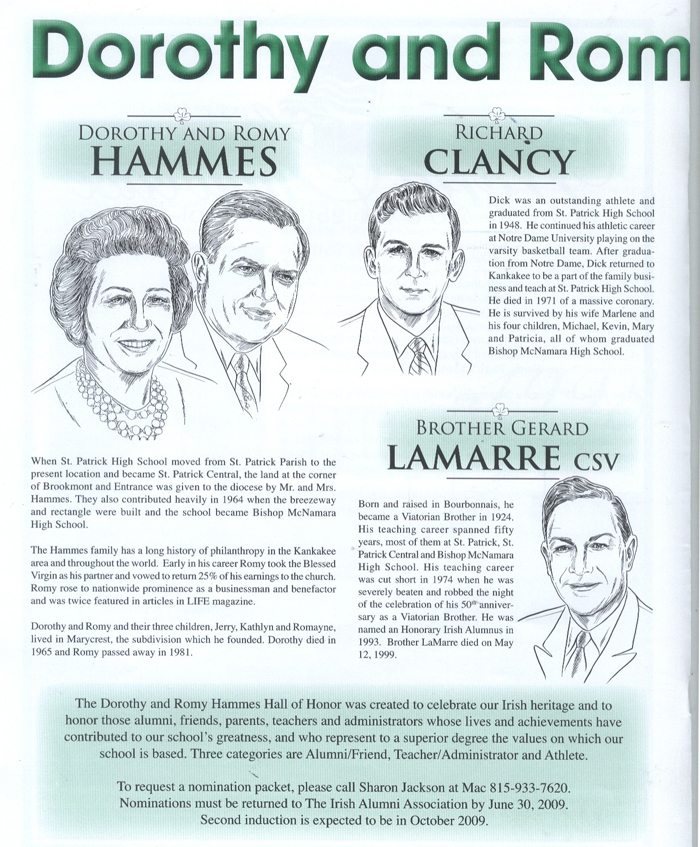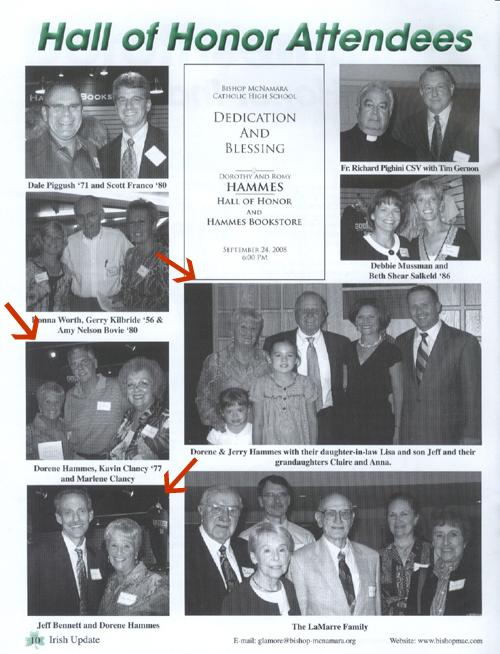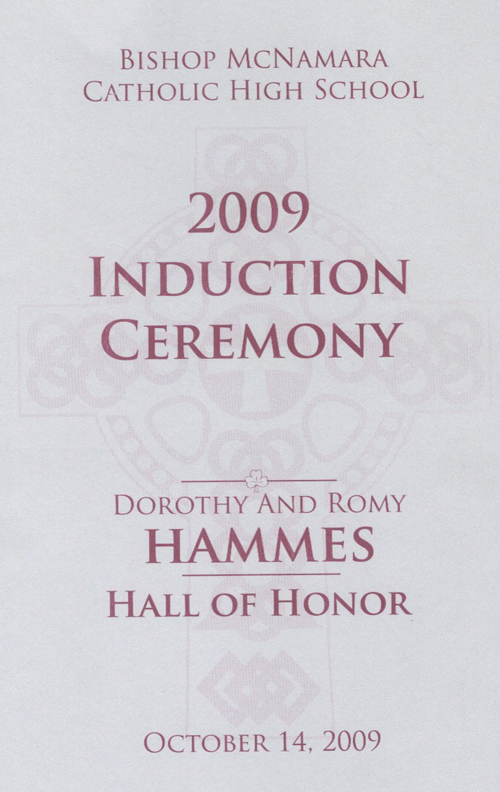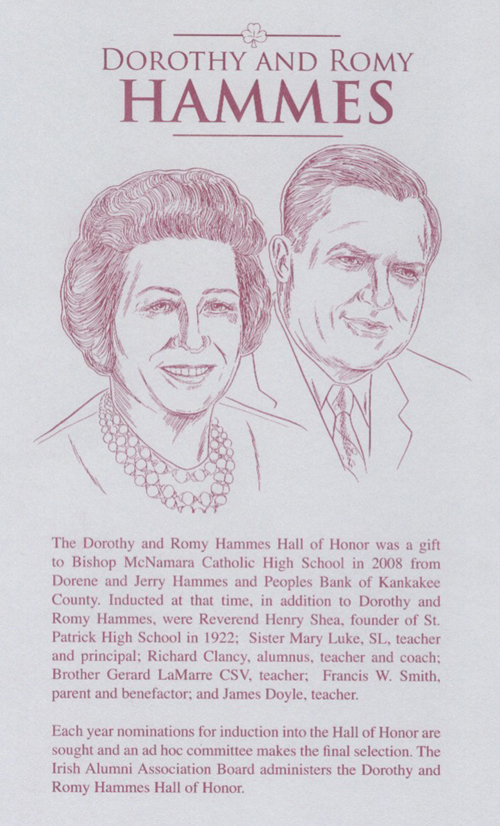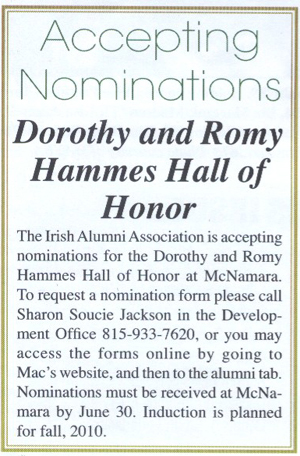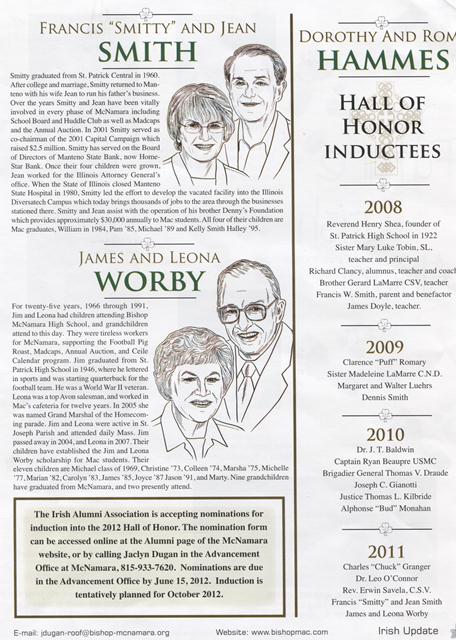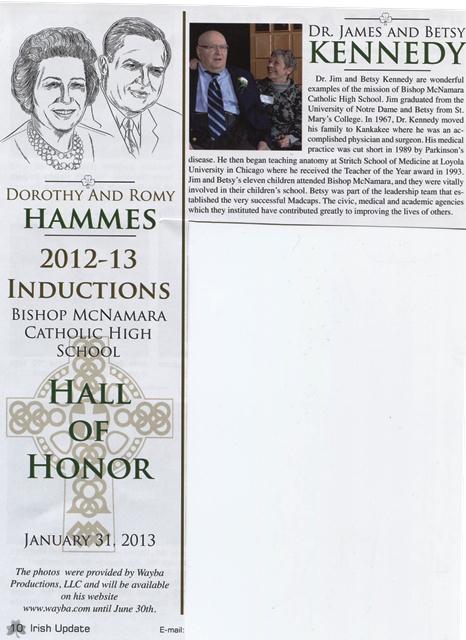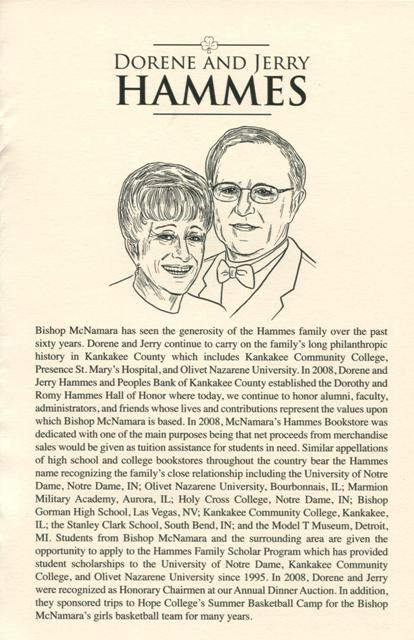 McNamara inducts Class of 2014 into Hammes Hall of Honor

Bishop McNamara Catholic High School inducted five new couples and/or individuals into its Dorothy and Romy Hammes Hall of Honor Monday night.
Established in 2008 through the efforts of the Irish Alumni Association, the generosity of the Hammes family and Peoples Bank of Kankakee County, the hall of honor recognizes people who have given time, talent and treasure to help McNamara live up to its motto of "Choose To Be More.''

In prepared remarks at Monday's ceremony, McNamara Principal Terry Granger said the Hammes family and those being honored are examples of the phrase "any level of success is not, unless you give back.''

This year's honorees include:

• Edward "Ed" Billadeau is a 1942 graduate of St. Patrick's High School, the forerunner of Bishop McNamara.

Billadeau met his wife, Margaret Benoit, during that period and the couple raised six children. Billadeau also was an active volunteer with St. Patrick Church in Kankakee, the Knights of Columbus and the Catholic Youth Organization. As the children entered St. Patrick's Central and Bishop McNamara High School, Billadeau became the president of the band boosters, was a Huddle Club officer, and served on Bishop McNamara's school board.

Billadeau died in 2009. His wife survives.

• Tim and Colette Gernon have served McNamara faithfully for many years.

Colette was the first woman president of the McNamara school board. The couple served as chairmen of the annual dinner auction in 1993 and were honorary chairmen in 2007. They also served as chairmen of the Huddle Club's annual pig roast. Tim is the past general chairman of the 2002 Capital Campaign and is the president of the Bishop McNamara Foundation Board.

The couple are members of St. Patrick's Parish in Kankakee. She has been active with the Kankakee Kultivators, the Junior League of Kankakee County and the Presence St. Mary's Hospital Auxiliary Board. He has been active with Hospice of Kankakee Valley, the Community Alliance, the board of directors of Presence St. Mary's Hospital, the Diocese of Joliet Education Foundation, Our Lady of Victory Nursing Home and Kankakee Community College. He is a recipient of the distinguished Beacon Award for his outstanding contributions to the Kankakee community.

Their three children are all McNamara graduates.

• Dorene and Jerry Hammes have continued to carry on the family's long philanthropic history in Kankakee County, which in addition to McNamara, includes Kankakee Community College, Presence St. Mary's Hospital and Olivet Nazarene University.

In 2008, the couple and Peoples Bank established the Dorothy and Romy Hammes Hall of Honor. Also in 2008, McNamara's Hammes Bookstore was dedicated with one of the main purposes being that net proceeds from merchandise sales would be given as tuition assistance for students in need. Similar bookstores throughout the country bear the Hammes name, including those at Olivet and KCC.

Students from McNamara and the surrounding area are given the opportunity to apply to the Hammes Family Scholar Program which has provided student scholarships to the University of Notre Dame, KCC and Olivet since 1995.

In 2008, Dorene and Jerry were recognized as honorary chairmen of McNamara's annual dinner auction. In addition, they sponsored trips to Hope College's Summer Basketball Camp for the Bishop McNamara's girls basketball team for many years.

Jerry and Marlene Huot have been passionate advocates of Catholic education and Bishop McNamara.

Jerry is a 1961 graduate of St. Patrick's Central. Together they served served as chairmen of McNamara's dinner auction in 1986 and were recognized as honorary chairmen in 1993. They also served as the Madcap's dinner chairmen for two years.

Jerry is the bishop's representative to the Bishop McNamara School Board. In prior years, he served two terms as the school board president, 22 years on the finance board, was president of the foundation board and was a member of the Irish Alumni Association Board.

Jerry and Marlene's volunteerism and generosity extends beyond McNamara and St. Patrick's Church. Marlene was the director of housing of the Illinois State University Chapter of Delta Zeta Sorority. Jerry served 10 years as the chairman of the board of the Catholic Education Foundation and is a board member of the Diocesan Parish and School Endowment Fund. He also has been active with the Kankakee Lions Club, Kankakee Community College Cavalier Club and the Kankakee Valley Park District Foundation.

Jerry recently was awarded the Pro Ecclesia et Pontifice honors. This award is the highest honor that can be awarded to the laity by the papacy.

The couple's two daughters are McNamara graduates.

• Judge William "Bill" Schmidt, a 1968 McNamara graduate who ranked in the top 10 percent of his class and was a three-sport standout in football, basketball and baseball.

He and his wife, Patricia, have four daughters and all four played basketball at McNamara. Their father served as an assistant coach on those teams during that period, including two that advanced to the state tournament.

Schmidt also was involved with St. Patrick and St. Teresa Grade School and the Kankakee Kiwanis Club. He served as an associate judge in the 21st Judicial Circuit from 2001-10, and was a member of the founding group that established the Kankakee County Drug Court Program.

The couple recently moved to Colorado where their daughters, all McNamara graduates, reside.