Romy Hammes Ford - 1938
[Back to topic list] [Back to Chicago, Illinois - 1939 Topic]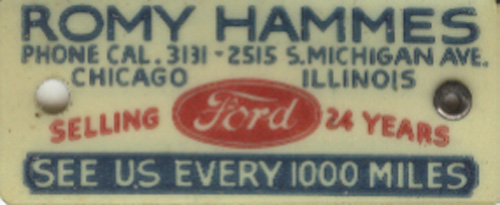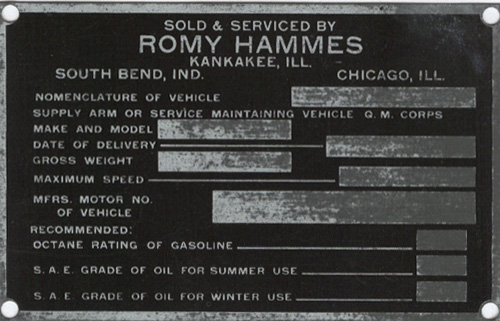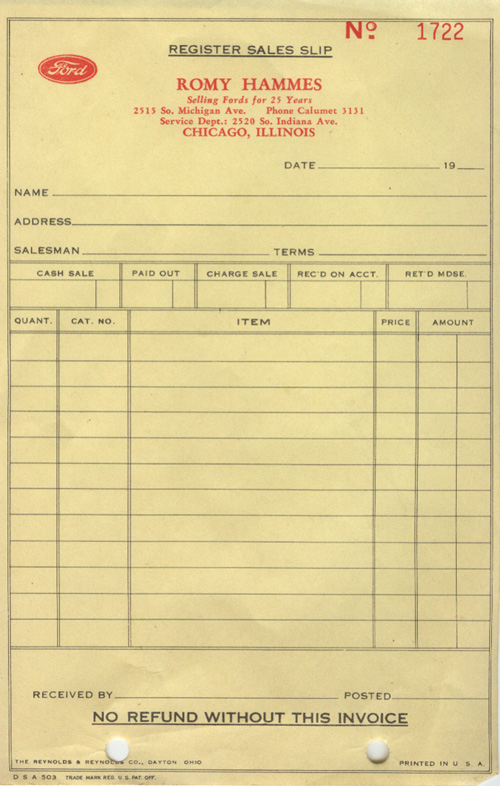 Romy Hammes was the Ford Dealer in Chicago in the 1940s "Selling Fords for 25 Years 2515 So. Michigan Ave. Phone 3131 Service Department.: 2520 So. Indiana Ave. CHICAGO, ILLINOIS" as it appeared on the dealership "REGISTER SALES SLIP"
South Michigan Avenue had pavement, access to Loop and was one of the best paved roadways at the time, which made smoother test drive and an easier sale. Automobile dealers flocked to the 16-block stretch of Michigan between 12th and 28th Streets, which became known as Motor Row. A REO dealer sold the Speedwagon delivery truck. Another sold the Nyberg automobile, which was built in Indiana and at 2500 S. Michigan. Al Capone may have brought his wheels at the Cadillac dealership across the street from his office at the Metropole Hotel, in the 2300 block of South Michigan. Related auto businesses spilled onto Wabash and Indiana. "It was just gigantic," says Kerr: "If you wanted to buy a car this is where you went." In searching the 1915-'16 Chicago telephone directory, Kerr counted 216 auto businesses in the Motor Row area.
In the 1920's the lights dimmed on Motor Row as the number of automakers dropped. Yet two big new showrooms were build in 1922-the Marmon at 2222 S. Michigan and Hudson at 2232 S. Michigan. Both were in an ornate Spanish-revival style, a sharp contrast to the simple Ford showroom. The above came from an article in the Chicago Tribune, 2003.