South Bend Tribune, Wednesday, Nov. 14. 1962
"a South Bend dealer" is the Romy Hammes, Corp. and was that dealership located across from the newspaper on Lafayette Blvd.
Foot note: The Tribune never identified, even a large advertiser, by name such as above. A reward for being a good customer? Since it was the only newspaper in the area it was a monopoly. So there! Take us or leave us. We dealers did leave the paper after some unkind articles about dealers kept appearing in the paper. We all boycotted the classified section for one year. That section shrunk by one half with out the dealers ads. Guess what? We did not sell any fewer cars because of doing that, and going forward we were careful to do a minimum of ads. Result. They lost revenue. The dealers gained revenue.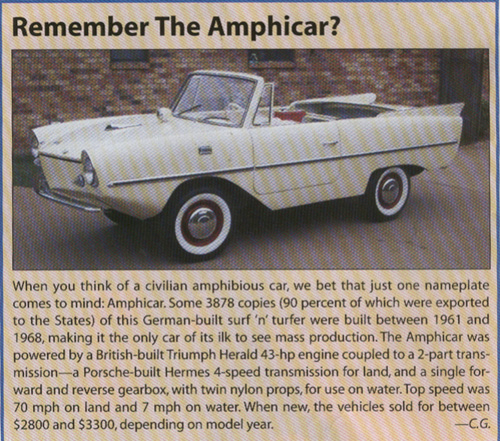 These marvelous contraptions were manufactured in Germany from 1961 through 1968 model years. There were 3,878 manufactured. Romy Hammes Amphicar franchise sold them in the middle of those years in the amount of 25. Romy Hammes, Corp., was also the distributor located at 2115 Western Ave., South Bend, Indiana. The distribution sales was accomplished by the USA representative, formally with Studebaker and Mercedes Benz of North America located in South Bend.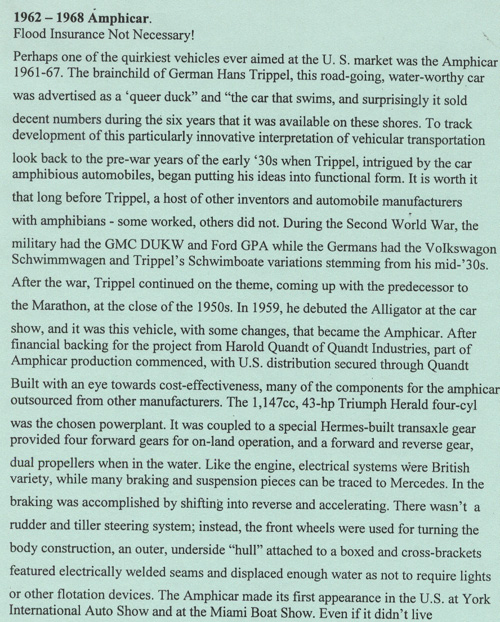 Dealer Letter
Page 1 of 21 pages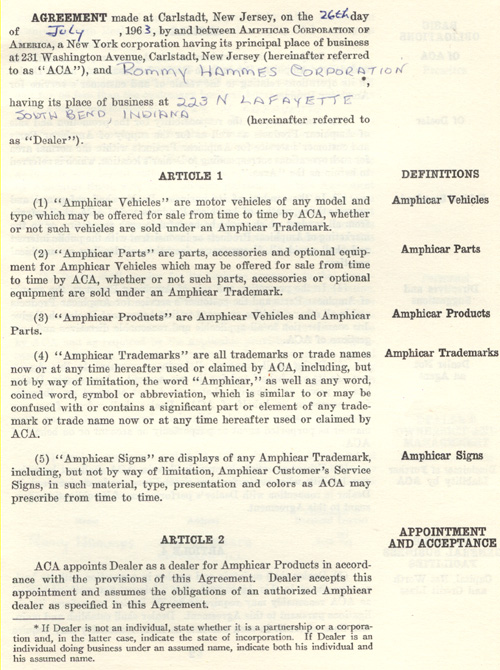 Page 1 of 21 pages

Dealer Invoice
An Amphicar simular pictured below was donated to the Cradle for a raffle to their annual fund raising event. The winner lived on the Fox River and owned it for several years.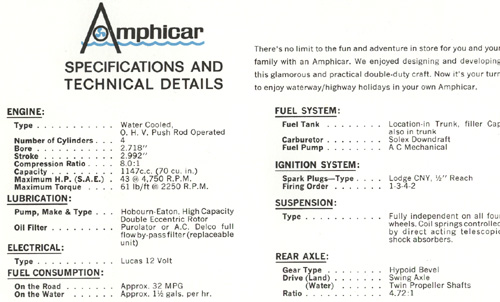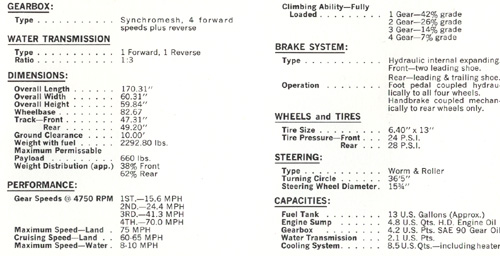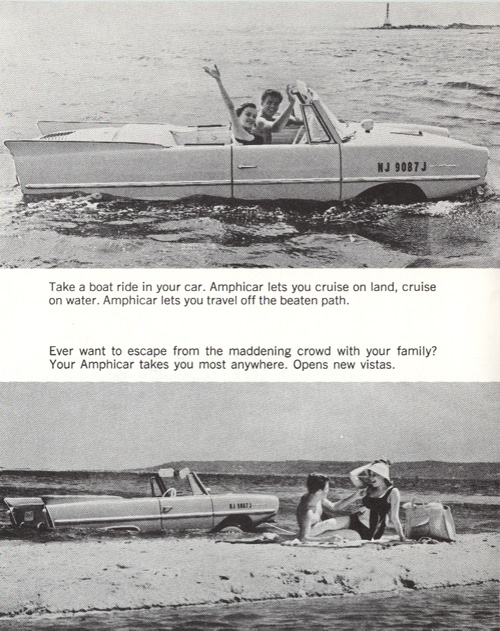 Car and Driver Magazine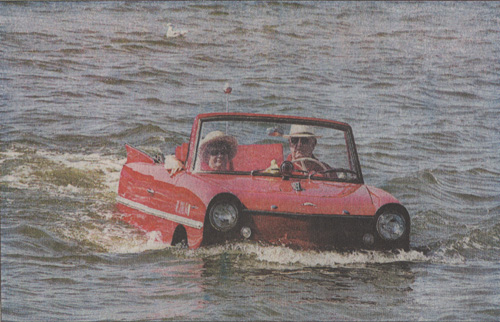 What goes around comes around. Check out the new Amphicar, the Aquada.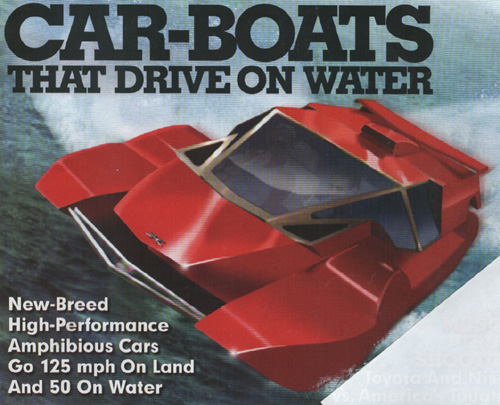 Further Information:
[PDF] BYLAWS
File Format: PDF/Adobe Acrobat - View as HTML
Your browser may not have a PDF reader available. Google recommends visiting our text version of this document.
... The club shall be known as the International Amphicar Owners Club (formerly the National
Amphicar Club) throughout this document it will be referred to as the ...
www.amphicar.com/pdfs/bylaws.pdf - Similar pages

Welcome to Amphicar.com: Official Website of the International ...
Official Website of The International Amphicar Owners Club. ... Powered by www.egroups.com.
International Amphicar Owners Club PO Box 760 Burlington, Kentucky 41005. ...
Description: Organization for owners of amphibious cars provides history, convention information, discussion group,...
Category: Regional > North America > ... > Localities > G > Gloversville
www.amphicar.com/ - 17k - Oct 22, 2003 - Cached - Similar pages


Coast Guard intercepts Cubans on vintage car in sea of Marathon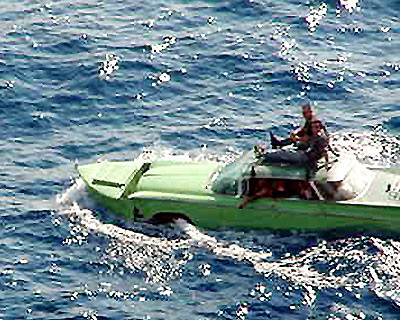 By JOHN PAIN
Associated Press
Posted February 4 2004, 4:07 PM EST

MIAMI -- Two Cubans failed in their second attempt to sail to Florida using a floating car or truck as the U.S. Coast Guard was returning them and their passengers to the communist island Wednesday, exile activists said.

Marciel Basanta Lopez and Luis Grass Rodriguez tried to pilot a seagoing 1950s-era Buick with nine other people, including five children, to the Florida Keys, but the car was stopped by the Coast Guard about 10 miles off Marathon late Tuesday, activist Arturo Cobo said.

The 11 people were being returned to Cuba, said Cobo and Joe Garcia, executive director of the Cuban American National Foundation. Cobo said the Buick was sunk.

The Coast Guard refused on Wednesday to confirm the status of the tailfinned car or the origin of photos of it in the water that were broadcast on television Tuesday. U.S. policy prevents the disclosure of information on such cases until they are resolved, such as by sending the participants back to their home countries, Petty Officer Sandra Bartlett said.

Under U.S. immigration policy, Cubans who reach U.S. shores generally are allowed to stay while those caught at sea are usually returned.

Basanta Lopez and Grass Rodriguez were sent back to Cuba in July after they failed to reach Florida in a 1951 Chevy pickup converted into a pontoon boat. They were joined by 10 other people.

The Chevy pickup they used then was kept afloat by empty 55-gallon drums attached to the bottom as pontoons. A propeller attached to the drive shaft pushed it along at about 8 mph. After the Coast Guard intercepted them about 40 miles off Key West, the pickup was sunk to keep it from becoming a hazard to other vessels.

Basanta Lopez and Grass Rodriguez launched their latest attempt Monday, relatives in Havana said.

``My uncle is very brave, he is not irresponsible,'' Eduardo Perez Grass, the nephew of Grass Rodriguez, said in Havana. ``There is no danger to the children. The car is very safe.''

Eduardo Perez Grass was among those who had tried to cross to Florida on the Chevy last year.

He said the others aboard were: Grass Rodriguez' wife, Isora Hernandez, and their son Angel; Basanta Lopez and his wife, Mirlena, along with their two children; and a couple he identified only as Rafael and Nidia and their two children. The names of the other children and their ages were not immediately known.

Perez Grass said the Buick belonged to the man known as Rafael, who made a similar _ but unsuccessful attempt in a converted floating car in 1994. ``But the women on board got scared and they came back,'' he said.

``This time they did a good modification job, maintaining the original V8 motor and hermetically sealing the doors,'' he added.

All the people aboard the floating truck in the earlier try later applied to immigrate legally to the United States. But Grass Rodriguez and Ariel Diego were the only two whose requests were being considered by American consular officials in Cuba.

But Grass Rodriguez couldn't wait, his nephew said.

``Although he had that alternative, Luis was desperate,'' Perez Grass said. ``They could still tell him 'no' and he didn't want to live in this country. Or perhaps he wouldn't be able to take his wife.''

AP Writer Andrea Rodriguez in Havana contributed to this report.